After receiving stunning engagement photos from our June 2016 clients, Sara and Adam by the amazing
Lin & Jirsa
, we felt inspired to write a blog post about the importance of an engagement shoot!   When making wedding photographer recommendations, we always feel compelled to recommend a engagement session (budget permitting), for the following reasons!
Getting To Know Your Photographer – Your photographer is one of your key wedding vendors and it's important that you like them — they will be capturing your memories that will last a lifetime!  An engagement shoot is the perfect way to connect with your photographer before the big day, ensure you gel, and get comfortable with they way they work!
Camera Comfort – Taking photos isn't always fun for everyone (especially those grooms) so it is great to have some practice pre-wedding!  There are several items that can lead to stress on your big day so remove photo anxiety from the equation.  You both will be more comfortable if you have had a chance to pose together and receive some direction from the photographer in advance!
Connecting On Camera – Your connection in person is amazing but you look awkward in photos!  An engagement session gives you a chance to review what works and what does not .  Since your photos are such an important part of the day you want to make sure your amazing connection is reflected and captured!
Hair & Make-Up Trial– An engagement shoot is a great reason to trial your hair and make-up.  Since make-up tends to be heavier for photos, this is the perfect chance to do a test run and see how it looks when it is captured.
Save The Dates – Incorporating photos into a Save The Date is a fun and personal touch.  Engagement photos will give you a vast selection of content!
Wedding Decor & Personal Touches – It is always nice to include framed photos, a personalized guest book, or other special details that reflect you both as a couple.  Engagement shoots give you the professional content to do that.  Often, photographers will even create a guest book or mounted photo frame to be used. Engagement photos also make great family presents.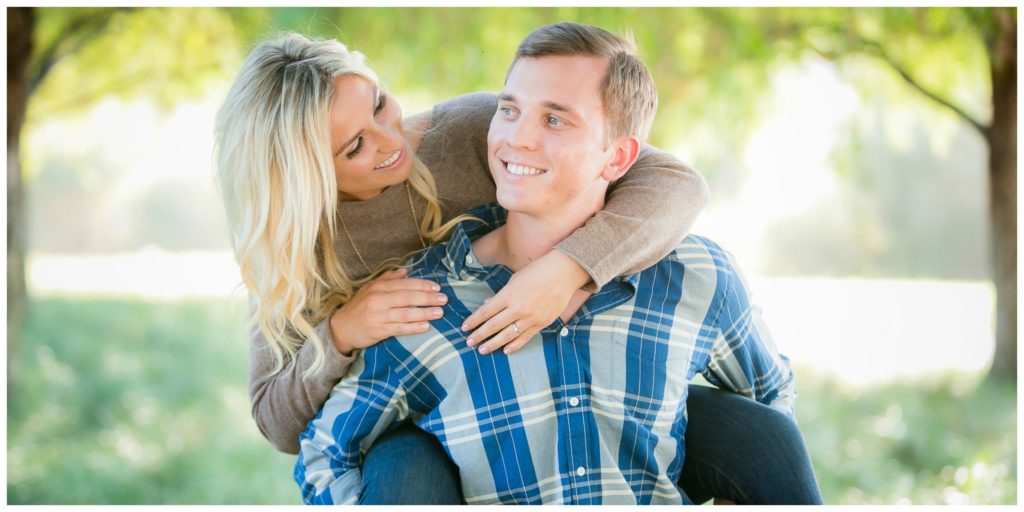 Now that we have convinced you to book an engagement shoot, here are some our tips for your shoot:
Work with your photographer to select a few unique locations that are meaningful to you both.  Be sure to check out any permitting or hourly restrictions in advance!
Select a few different outfits and styles — you never know what will photograph best!  Keep patterns simple and make sure your selections are a reflection of something you would typically wear.
Try a few different poses.  If it feels awkward, it might look awkward so don't be scared to change it up or flag to the photographer that you are not comfortable.
If an engagement session is not included in your package, ask your photographer how you can work one in or include it!
 Have fun!  Enjoy the day with your fiance – fun, relaxed, and natural photos always turnout best!