In the simplest of terms, a Ketubah is a Jewish marriage contract and was traditionally a legally binding agreement. Today, it remains an active part of the tradition of many Jewish weddings and is seen as a spiritual document. Below, I break down the basics, along with a few tips to think about when incorporating a ketubah signing ceremony into your special day.
Ketubah Text
Some couples choose to use the standard, traditional text, while others may take a more modern approach. One of the most popular modern versions, and the one my husband and I chose, was written by Rachel Adler – a professor at Hebrew Union College-Jewish Institute of Religion – and is completely egalitarian and relevant to life in this century. At artketubah.com, you can find a listing of the many options available. It is also, of course, an option to write your own text or incorporate your own personalized marriage vows into the text. The sky is really the limit.
Ketubah Art
As if there aren't enough decisions to make when planning a wedding! In my opinion, the visual aspect of your ketubah really is one worth spending the time and energy on as it will last well beyond your wedding day, and will probably hang as a piece of art (and a reminder of your marriage vows) in your home. There are so many different routes to go with this one. The simplest option is to hit up a few different websites, pick your favorite, convince your future partner that this is their favorite as well, and order away! Take a look at artketubah.com, ketubah.com, shopketubah.com, and most Judaica websites for thousands of options. You can get papercuts, watercolors, nature themed, abstract, traditional; basically whatever your taste is, you will be able to find a number of ketubahs to choose from. Etsy is also another great option for a personalized ketubah and along the same lines, if you have an artistic family member or friend, ask them to work with you to design the ketubah of your dreams. I've even seen them designed by graphic artists to match wedding invitations and décor. I was excited to have an artistic project for my wedding that didn't require tying any bows, so I painted my own. The beauty is there are no real requirements in regards to the art, so whatever makes you happy is perfect!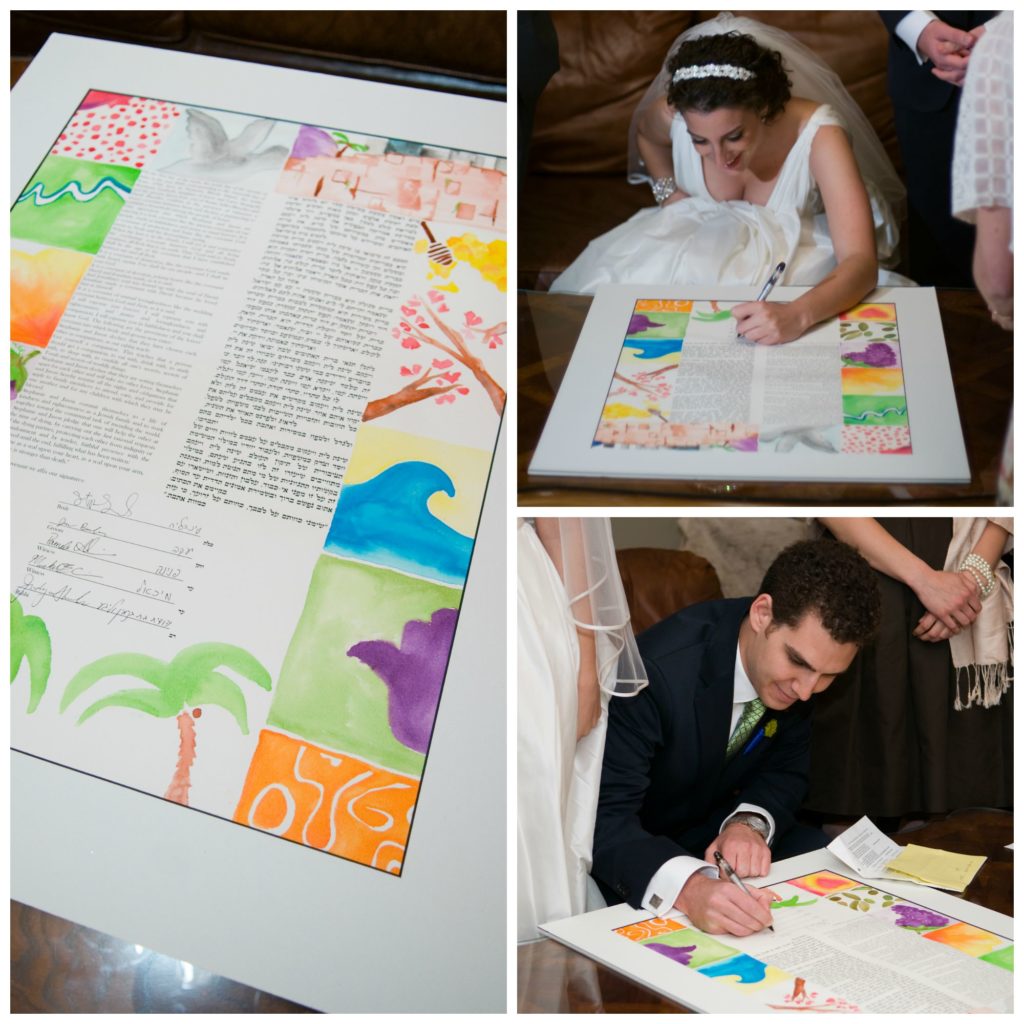 Tips
When & Where:  Most couples hold the ketubah signing ceremony about 30 minutes prior to the wedding ceremony directly following the first look (if you plan to have one). Any small room with a desk or table will do.
Who:  Usually, the ketubah requires two witnesses, along with the Rabbi or officiant. This is a great way to provide two additional honors. I've had friends who had no wedding parties honor their closest friends this way, or in our case, our opposite gender best friends were our witnesses. Others have close aunts, uncles, cousins, etc. serve as their witnesses. Most people have just their wedding party and immediate families at the signing and then have the officiant do a quick recap/pointout the ketubah during the ceremony.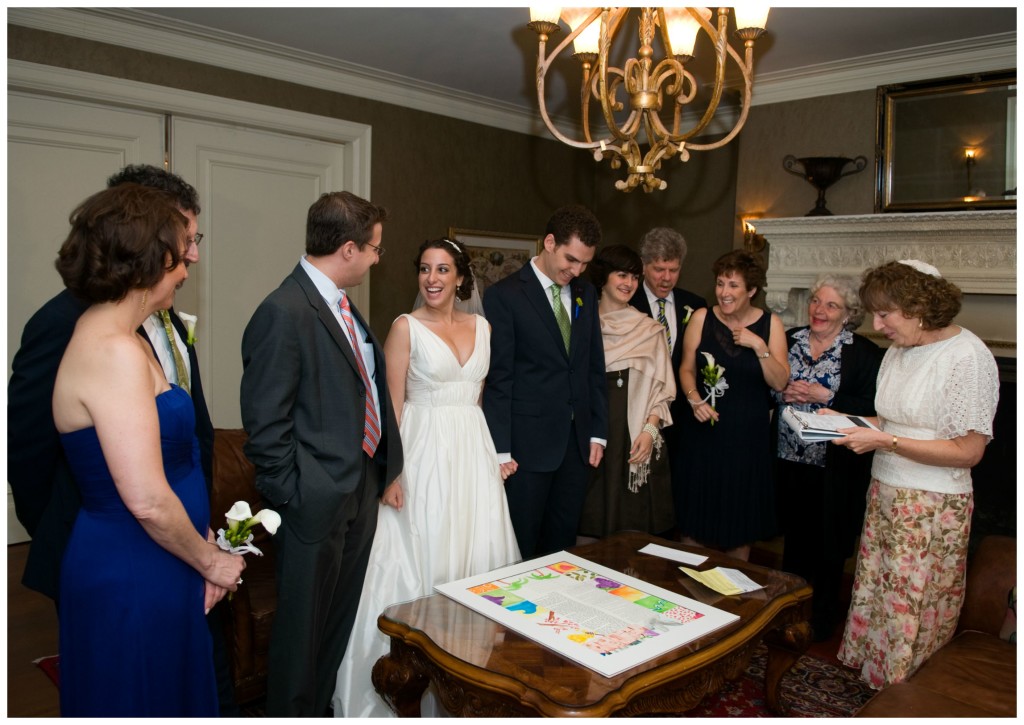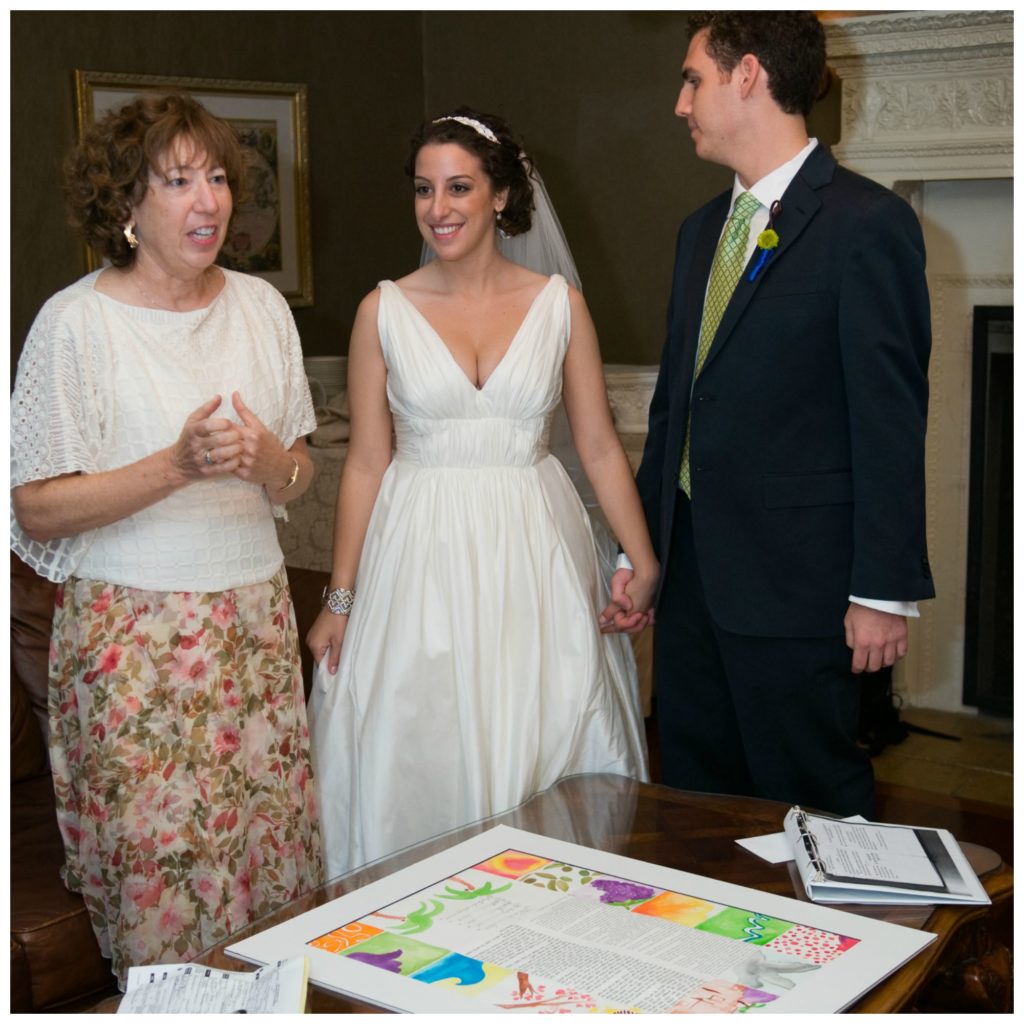 Framing/Display: Since you spent all this energy picking out the perfect ketubah you will probably want to display it during your cocktail hour/ reception. The best way to do this is to have the ketubah matted at a framer before the wedding and also have the frame ready to go so after you sign it you can place it in the frame, on an easel, or at least place the matted piece in plastic, lest your marriage document start its life covered in your tipsy bridesmaid's Pinot or your flower girl's Shirley Temple.
So there you have it, Ketubah 101! In closing, I just urge you not to make it an afterthought, and enjoy creating a contract together that serves as a lasting memento of the beginning of your life together!
Sources to check out: InterfaithFamily, ArtKetubah and The New Jewish Wedding by Anita Diamant                                                                                                                                        
Stephanie Bressler is a fundraising and events specialist, with a background in the Jewish nonprofit world. She has a degree in Near Eastern Judaic Studies, and a Master of Jewish Communal Service and Communication Management. She loved planning her own wedding in Newport, RI, although has even more fun planning her sons' birthday parties.